The Blanchard Valley Veterinary Clinic has been in business since 1946 starting at 1930 North Main Street. We are currently located in our new building at 1611 North Main Street in Findlay, Ohio.
Our Doctors:

We currently have 4 full-time doctors working at the clinic.
Dr. Tony Fuller
Dr. Fuller grew up in central Alabama and Kenya, Africa.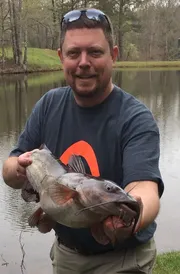 He attended Asbury College in Kentucky for his BA in Biology and Auburn University College of Veterinary Medicine for his Doctor of Veterinary Medicine.
He lives in Findlay with his wife Joanne, they have three children - Joran, Alaya and Kale, dogs - Duma and Lansbury, cats - Empus and Minus.
Dr. Fuller enjoys fishing, boating, disc golf, gastronomy, reading and watching movies.


Dr. Tyler Fields
Originally from Marion, OH where he was active in the performing arts (Marching Band, Jazz Band, Choir, Show choir, etc...) His interest in veterinary medicine stemmed from raising rabbits and poultry as 4-H projects.
Attended University of Findlay for his undergraduate degree and was an R.A. and played the Euphonium and French Horn in the band. Graduated from The Ohio State University for Veterinary School. Served at the Oxbow Animal Health student representative.
When not working he enjoys playing music, hiking, relaxing with his cat Bean and is very much a "Foodie" who is looking for new places to try.
Dr. Field's professional interests involve Ophthalmology and Cardiology.
Dr. Kara Schmidt
Dr. Schmidt is originally from Waterville, OH and is a graduate of the University of Findlay. After being in Columbus attending veterinary school at The Ohio State University, she is happy to be returning to Northwest Ohio to join the BVVC team.
Dr. Schmidt enjoys reading, kayaking, fishing, visiting her family, and traveling to Northern Michigan whenever possible. She lives in Findlay and has dog, Sophie , and a Beta fish, Gunther.
Her professional interests include canine and feline cardiology, soft tissue surgery, and minimally invasive procedures such as laparoscopic surgery and endoscopy.
---


Dr. Chelsea Naylor
Dr. Naylor is originally from Upstate New York and found her way to Ohio as a result of her veterinary journey. She centered her veterinary schooling around small animal emergency and general practice during school, but then ended up taking a year long specialty internship in farm animal medicine and surgery at The Ohio State University after she graduated!
Her veterinary interests include emergency and critical care, ultrasonography, internal medicine, radiology, and farm animal medicine and surgery. She has two cats, Gretzky and Callie, and her hobbies include kayaking, hiking, cooking, and rooting on the New York Rangers and The Ohio State Buckeyes… GO BUCKS!


Our Staff:


We have an outstanding staff of receptionists, technicians, and assistants! They are all committed to providing the best-possible care to our clients and their pets with heart-felt compassion and concern.
Laura K - Our Comptroller, has been employed by us since 2005, handling our finances and is friend to all furry pets, but especially cats, including her own kitties, Watson and Webster.

Joanne - Receptionist and Veterinary Social Worker, is a Licensed Independent Social Worker and has completed a Veterinary Social Worker Certification. She works with clients who have to make difficult decisions, have a loss or with staff in stressful situations.
Julia - Our Head Nurse, Julia started working as a assistant and 2005. After getting her registered technician license she worked in a major referral hospital then joined the BVVC family in the Fall of 2011. Julia enjoys working with behavior and surgery, she and her family have a Doberman Pinscher, Gwen.
Elizabeth - A Registered Veterinary Nurse was welcomed to the clinic in 2015 as a technician and is also our Inventory Manager. She and her husband have a dog, BB and three cats.

Kendall - RVN lives here in Findlay and enjoys spending time with her husband, Roy, three dogs, Lola, Jerry, and Daisy and three cats, Fat Cat, Little Guy, and Seven.

Cathy - RVN , Cathy joined the team in March 2021. She has been in the veterinary field since 2004. Originally from Tiffin, she now lives in Fostoria with her 2 teenage sons, Blake and Devon and her two cats, Sylvester and Veda.

Kelsey - RVN , is from Fremont, OH. She enjoys spending time with her wife, Sam and taking care of their two cats, dachshund, rescued pit-bull, and chinchilla.

Leandra - RVN, joined us May of 2018, comes from Tiffin and has always enjoyed caring for and rescuing animals. She has a passion for being an exotic animal nurse. She lives in Findlay with her dog, Khaos, six rescued cats, and a menagerie of other furred, scaled and feathered pets.
Maddie - Veterinary Assistant , started working with us in August of 2019 and is studying to become a Registered Veterinary Technician. She lives in Bluffton with her two chocolate labs, Paisley, Presley, a German shepherd, Zoe and a cat named Bubbles.
Celena - Veterinary Assistant , graduated from Statuzenberger's Veterinarian technician program in 2018. She is working towards becoming a Registered Veterinary Technician. She travels from McComb and lives with her fiancé, two cats, Turtle and Hazey, and her two dogs, Ryder and Jace. She has a special interest in working with the exotics.
Jeanni - Technician's Assistant, is currently attending Stautzenberger college to work towards her Veterinarian Technician degree. She is a lover of cats and has three of her own, Monroe, Diogee, and Beau.
Keri - Receptionist, is from Findlay, Ohio. She has been married to her best friend since 2011 and loves spending time with her family and animals.
Lexi - Customer Care Coordinator, is a graduate of the University of Findlay. She's always had a love for animals, and even started a petition in first grade to get a class pet! She and her Husband reside in Findlay with their large family of dogs, cats, reptiles, birds and pocket pets.
April - Is our Business Manager. A Michigan native, she has been in involved with veterinary medicine since 2009. April is responsible for the business side of the Veterinary Clinic. She lives in Upper Sandusky with her husband, two cats, Trinket and Phillip and her two dogs an American Hairless Terrier, Goblin and a poodle mix, Little Black Betty.